Pork Shoulder Porchetta.
Our All-Natural Pork Shoulder Porchetta is a savory, and moist boneless pork roast of Italian culinary tradition. Completly deboned and carefully stuffed with our original recipe developed in Fano, Italy.
I want to try it!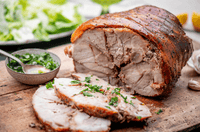 Feautured recipe
Parmesan Herb Sausage Stuffing
The perfect combination of trusty standby + different flavors that may or may not steal the show on Thanksgiving!